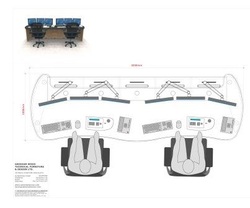 System Design Services.
Designing and planning a system can take many hours of consultation between our project team and the end user. The team will spend time looking at the site, discussing the problems and the reasons why CCTV is being employed, then looking at the best locations for the cameras taking into account where the units will be mounted, any issues with power and how the information will get back to the control room. Zada will also plan the ergonomics of the control room, taking into account the numbers of cameras operators and their daily duties, zada will ensure the best control room ergonomics right down to the furniture, storage numbers of monitors on the desks and the monitor wall, even the most suitable 24 hour cab chairs. Zada also deign in lighting and security of the control room and ensure that the package is DDA compliant. This attention to detail ensure that the final system will be implemented efficient and provide the end user with a cost effective solution
---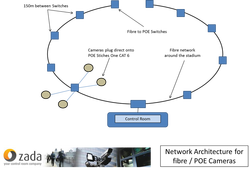 Network infrastructure,
,Today's IP HD CCTV cameras are demanding on bandwidth to produce the high resolution pictures and the network design is often overlooked. Poor infrastructure components and bad instillation can result in systems running slow and the introduction of latency, which in turn affects the recording quality. At Zada we work with only the top manufacturers of network devices, so if its Copper POE LANS, Wireless point to multi-point through to large scale Fibre Backbones, zada can assist in all elements of the design and implementation.
---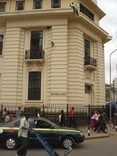 Installation::
The zada team have a wealth of experience in the installation of electronic security systems, including Access Control, Help and Call points, Intruder and of course IPCCTV. Having worked on and been involved in the installation of some of the first networked IPCCTV system, the Zada Installation engineers are experienced in all aspects of surveillance. Not just in terms of installing the cameras and making them work, but also in terms of setting the cameras up to provide the best coverage. Zada engineers are continuously trained in new technologies as they emerge. They are also focused on all aspects of health and safety, holding current IPAF licences for access equipment.This ensure safety of the engineers safety of the public and safety of the clients staff.
.


---